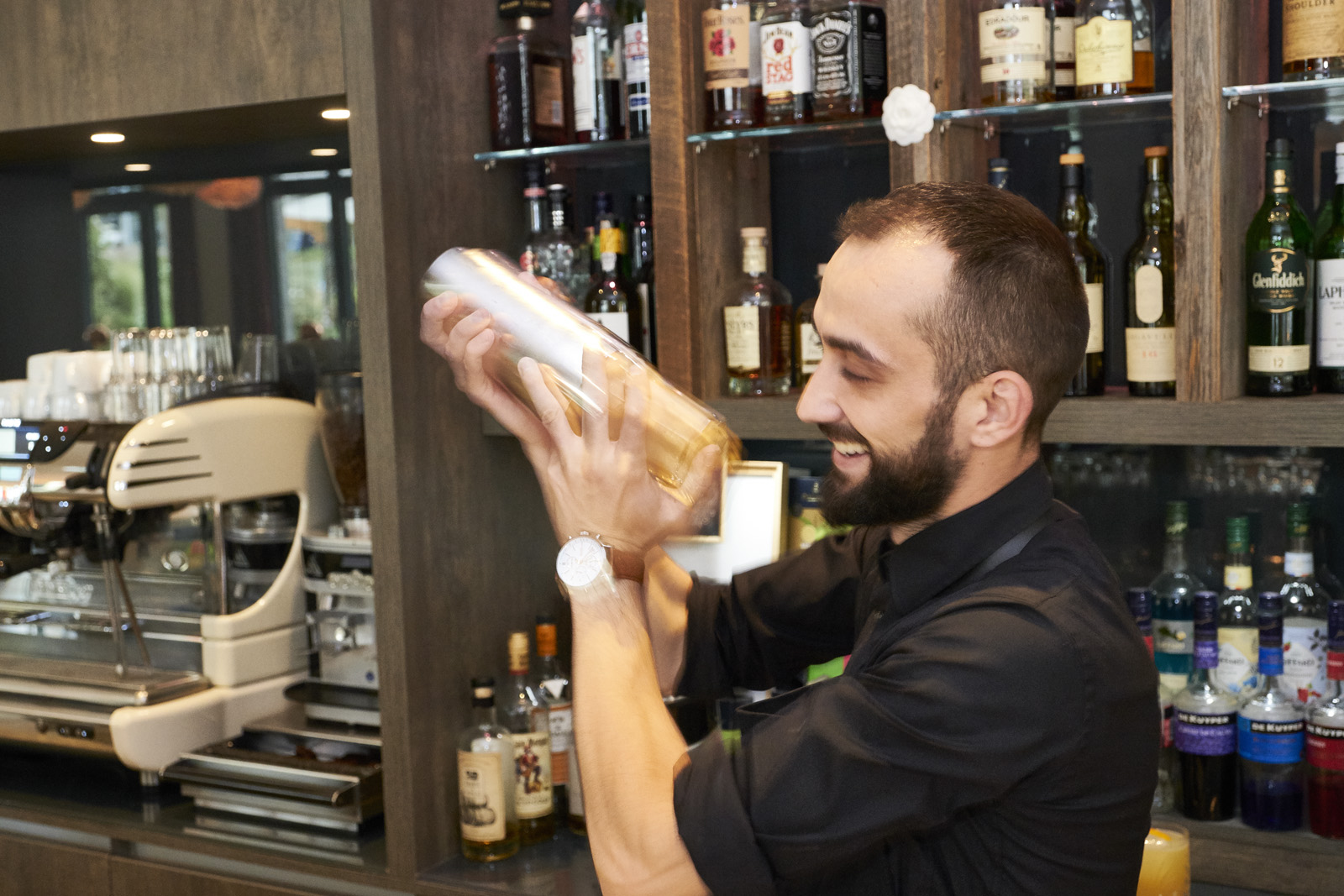 Cocktails, please! – Golden Hour at Grimm's Hotels
Summer, sun, 35 degrees in the shade –  cooling down needed? – … "cool" questions and answers regarding cocktails, recommendations for the next bar stopover at Grimm's Hotels and summer holiday feeling at home due to our barkeepers cocktail recipe – how about your own cocktail party?
S
ummer in the City! The temperature is rising - which means: you need refreshing cocktails! The most important question, besides the choice "shaken or stirred" and cocktail umbrella "yes or no" is "What taste do you prefer?" - ...fruity, sweet, sour, creamy or dry and last but least clasic drink or the latest summer cocktail trend? In case of any decision problems we would say: "Take them all"! ...to limit the countless choices a little bit, just ask our barkeeper for the best drinks and cocktails!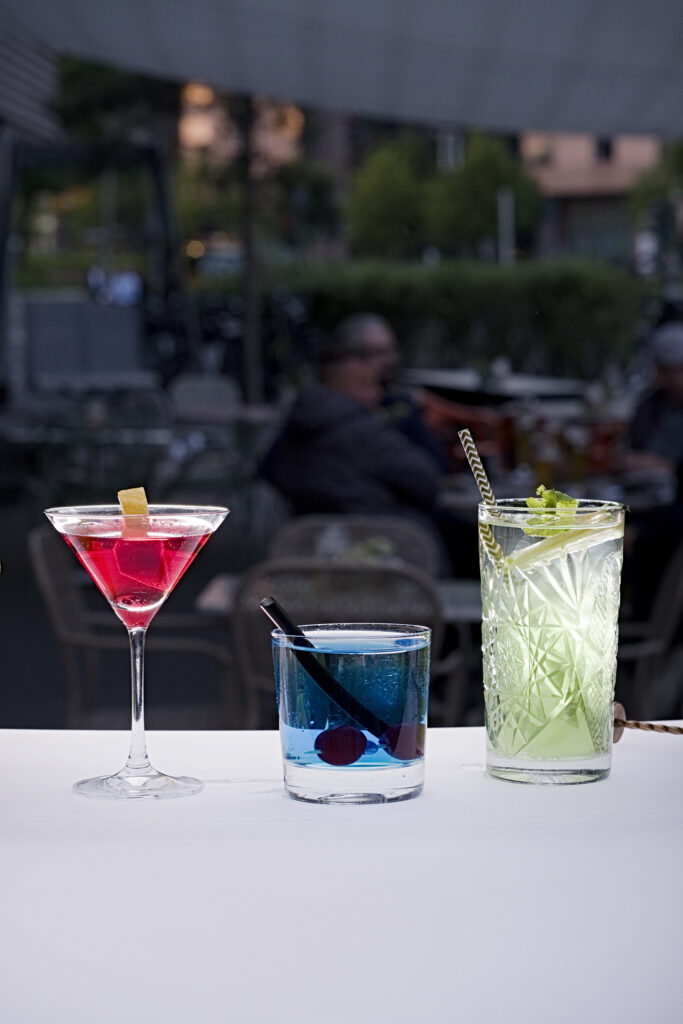 Berlin, the sun is shining, 3 hotels, 2 barkeeper and lots of cocktails: We wanted to know: what's worth to try? What are the latest alcoholic and nonalcoholic trends and what are classics which will never come out of fashion!
It is definitely summer when temperatures are only bearable at 10pm and the big question of the evening is only: cocktail oder mocktail?
In case you are not that common in drinking cocktails and you don't want to attract too much attention with your "lack of knowledge" maybe you should take one of the classics like Aperol Spritz, Caipirinha or Hemingways favorite drink Mojito…all of them drinks, which always existed and which will be there forever.
A good idea might as well be a mocktail (nonalkoholic and a mixture of the words mock and cocktail), which means you will start smooth, get your cocktail umbrella but no alkohol which can be of advantage to understand the bar menue even after midnight or to study the drinks of other bar guests and find out your ultimate summer drink…otherwise feel free to start over again the next day looking for your favorite summer drink.
…just to help you decide what summer drink you should definitly have a look of (instead of trying every interesting looking cocktail we asked our Barkeeper Alen and Almer, what are their current Top 3.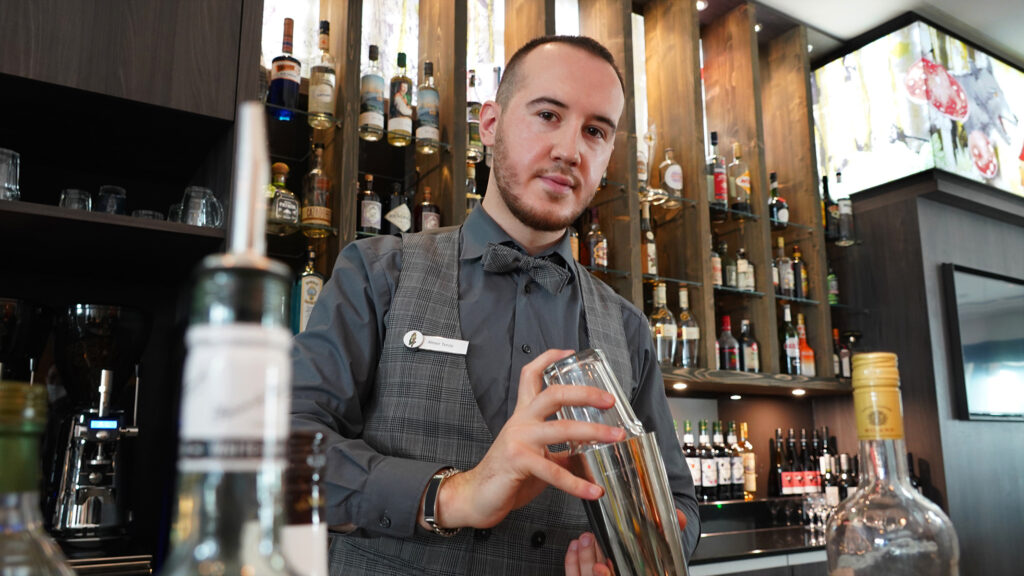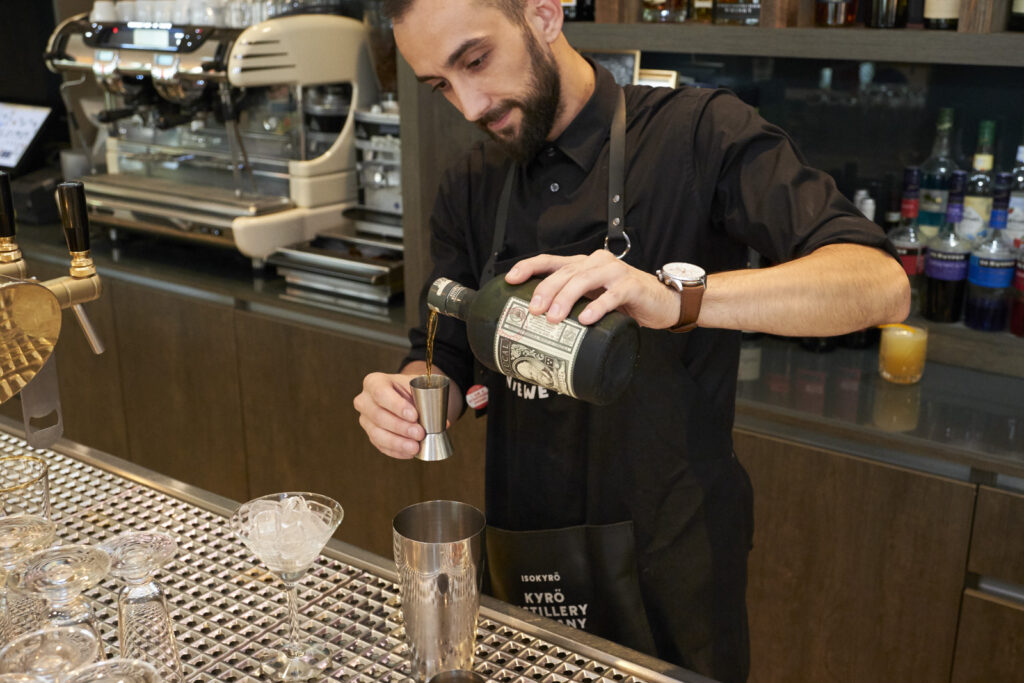 What are the Top 3 drinks or cocktails every guest should definitely try this summer?
Almer:
Moscow Mule
(Vodka, Lime, Ginger Ale)
Grimm's Treasure Island

(Vodka, Rum, Gin, Triple Sec & Apricot Brandy,
Apple-Cherry-Elder Berry Limonade)

& non-alcoholic
Moskito
(Ginger Ale, Lime, Mint, Raw Cane Sugar)
Alen:
Der Geist im Glas
(Dalwhinnie 15Y, Vermouth blanc , Grand Marnier, Aztec Chocolate Bitter)

Auf Reisen gehen
(Calvados Magloire XO, Remy Martin, Kyröö Dark Gin, Unfiltered Applejuice)

&
Longdrink
(Kyröö Dark Gin + Unfiltered Applejuice)
How to become a Barkeeper? – being a heavy drinker ?
Almer: Haha, always make everything with love, passion and you should have a feeling for the job.
Alen: First of all you have to be a good host and in addition it is important to listen and respond to the guests wishes. In addition there is the "Deutsche Barkeeper-Union" (DBU). This institution acts in the interests of Geman Barkeepers and is the first adress regarding bars, good drinks and education.
Do you have to try every new drink or cocktail – how do you keep up-to-date?
Almer:Trying never hurts but there are fairs and at least you can find inspiration everywhere.
Alen: Of course you should try the drinks you recommend. But it is as well very important to be in contact with other barkeepers and maybe visit Masterclasses to inform about trends and share information and details.
How do you "invent" a new drink or cocktail? How do you know it wasn't mixed before and it is just a slightly changed existing cocktail with a new name?

Almer: In case you experimenting a lot you find out new recipes. A lot of nowadays classics started this way. Classics like Gin Tonic in India or different Rum Punchs in the Caribbean Area – but a lot of new drinks are mixed by chance or it is a kind of "classic reloaded mixture".
Alen: Often you mix something new when you listen carefully what the guests like and when you meet the guests expectations you will have a classic drink with a new and unexpected twist.
What are the drinks which are ordered most frequently?
Almer: …that depends of the whim of the guests or sometimes of the wheather – on a sunny day guests often order Spritz or another refreshing drink. Some guests like to be surprised by the barkeeper
Alen: The most common drinks are beer and coffee, regarding cocktails lots of guests have faith in me and are looking forward to my own creations with wow-effect.
What's your own favourite drink?
Almer: …that's difficult and and quite different – often it depends on the situation and I like to be surprised as well
Cocktails with or without umbrella?
Almer: most of the time you can't avoid it, especially at private parties and a little bit of decoration can't harm…but I can definitely do without it
Ever heard of increased liver enzymes? How often it is checked?
Alen: Green Tea is sufficient!
Recipe Caipirinha (for 1 person)
ingredients:
1,5-2 organic limes
2-3 tsp brown/white cane sugar
4cl Cachaça
Crushed Ice
Preparation: Wash the limes carefully, fill the glass with limes, cut in wedges and muddle with sugar, add crushed ice, cachaça and stir briefly. Garnish with a lime wheel.
Alternative: instead of Cachaça you can mix it as well with Ginger Ale or Ginger Beer.
Cheers!