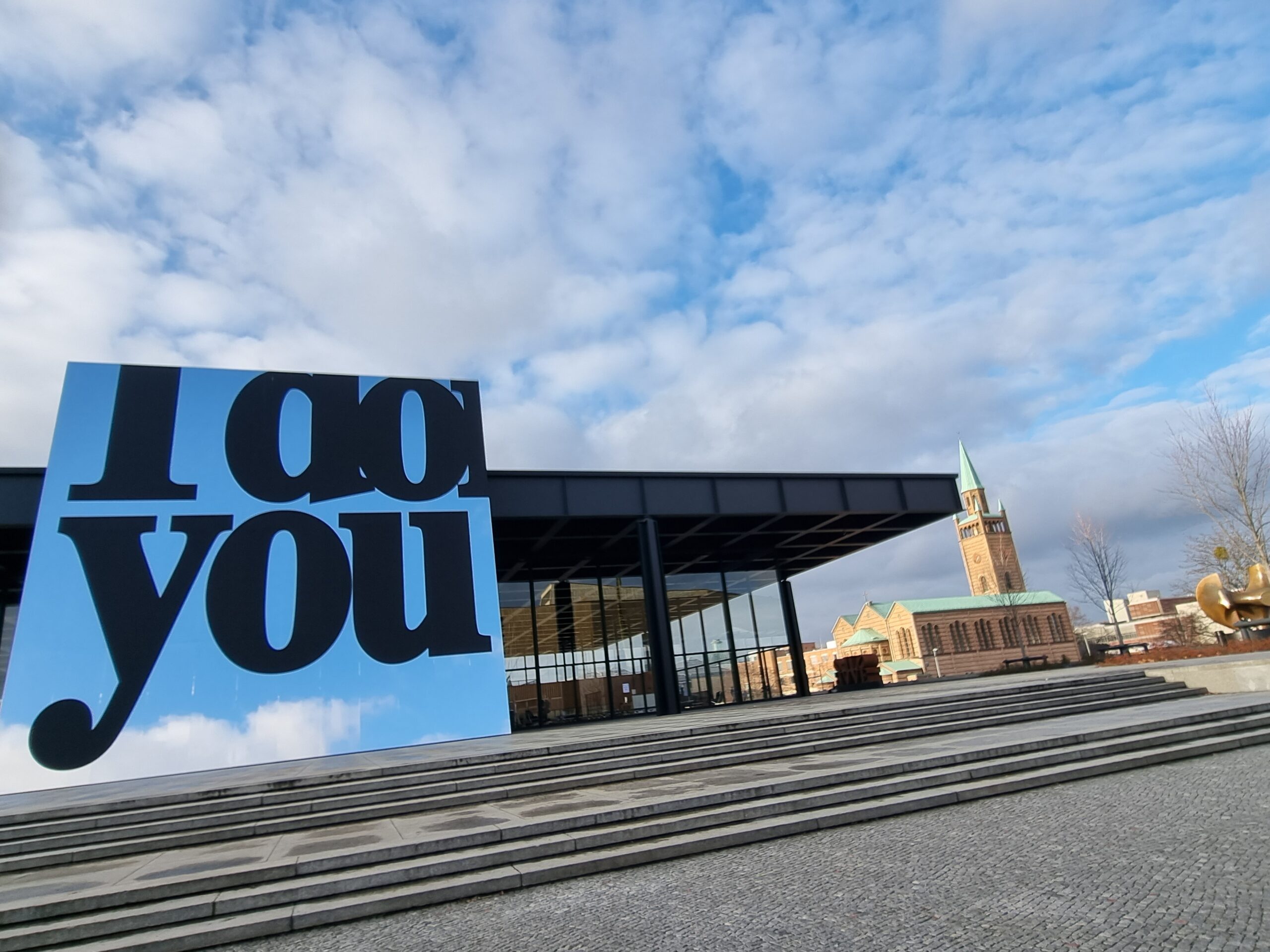 Performance Art by Monica Bonvicini – Neue Nationalgalerie is the place to be
I
you haven't been into performance art so far, you should definitely visit Monica Bonvicini's exhibition at the Neue Nationalgalerie. Under the title "I do you" the visitor will find light and sound installations or her sculptures "You to Me" and "Chainswing Belts /Chainswing Leather Round" from 2022 (chain swings and handcuffs). Neue Nationalgalerie is the place to be, the exhibition shows club culture and provocation à la Berghain and the visitor becomes part of the art exhibition.
Monica Bonvicini, who was born in Venice and now lives and works in Berlin, has been dealing with the subject of architecture for years. The light-flooded and open building by architect Ludwig Mies van der Rohe was given a new room layout by the artist. Through mirrored surfaces and a platform, Monica Bonvicini redivided the interior and now shows her works. Her "Chain Swings" (2022) are integrated into the exhibition. The swings made of steel and chains can be actively experienced by the visitors, as well as the handcuffs of the installation "You to Me". The visitor thus becomes part of the exhibition.
The floor of the pedestal is covered with a carpet (Breach of Décor, 2020-2022), which shows countless fragments of carpetdesigns with photographs of pants lying on the floor. The artist worked on the object for almost 2 years. She systematically photographed the clothes she had worn during the day. The complete work is now on display on the "Upper Floor" and is intended to stand for the pursuit of emancipation alongside trousers as a traditionally male garment. "…Where there are pants, this place suddenly seems conquered."
Located in one corner of the building there is a series of light objects from 2022. The series consists of neon tubes arranged sculpturally and emitting blindingly bright light. Electric cables and individual leather belts tie the neon tubes together and are meant to reference Eileen Gray's 1920 design classic "Tube Light."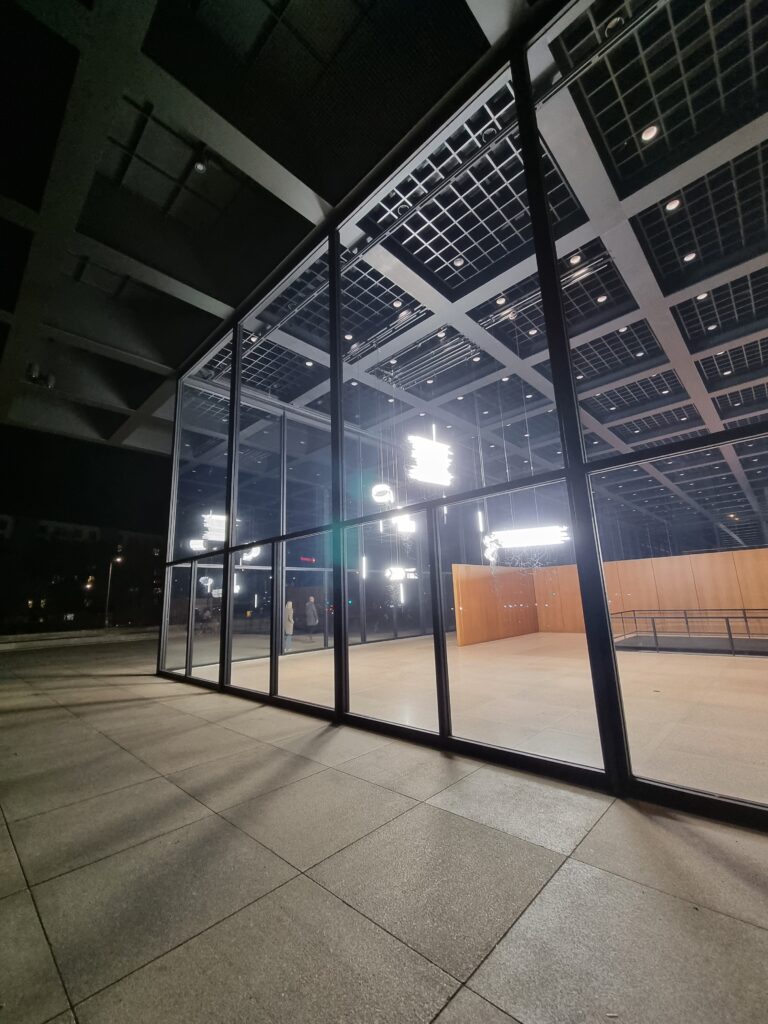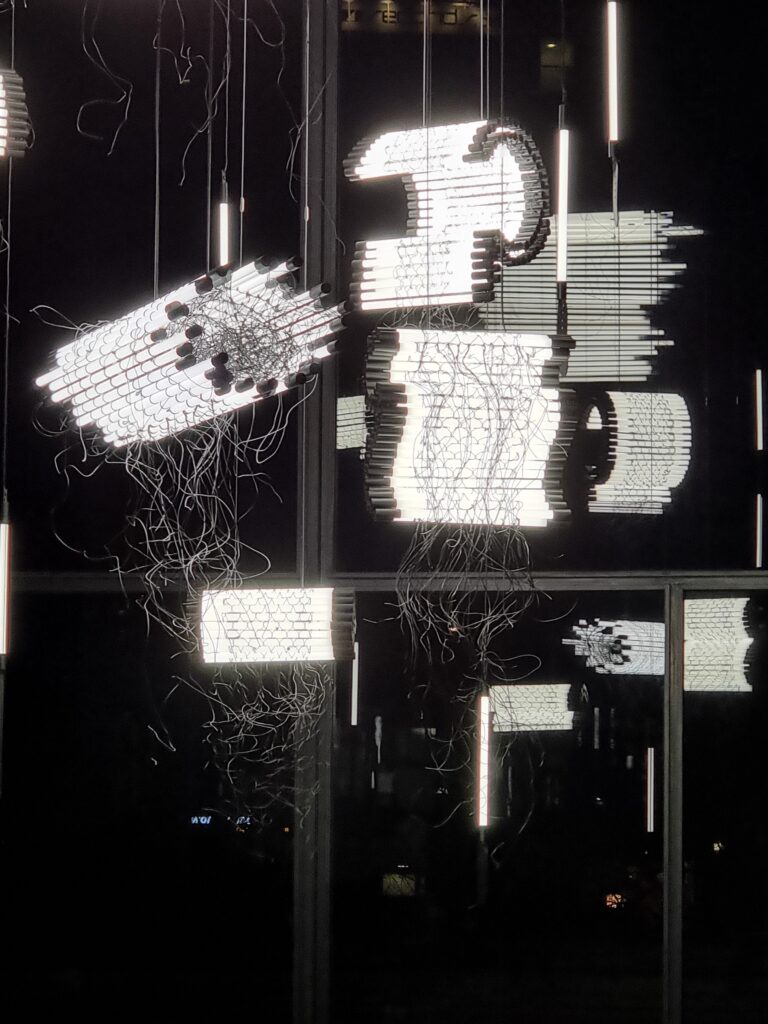 The visitor is accompanied by a sound installation, which can also be heard outside the museum via loudspeakers. Approximately 2000 titles of works created by the artist in the course of her career are read out. The titles of the works interact with language and art and question how art can be translated into language and how language itself can become art.